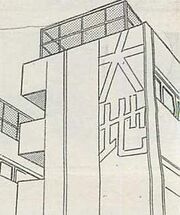 The Daichi (大地, "earth") dormitory is one of two new lodging houses Tenchi Academy's swordbearers are divided into in Hayate's second year. It represents the Kurogumi, as opposed to the old regime, represented by the Tenkuu dormitory.
As distinct both from Tenkuu and the old dormitory, in Daichi shinyuus room together.
Fubuki Hajime appointed by Amachi Hitsugi as dormitory leader for Daichi Dormitory.